Planning a Home Renovation for Equity Growth
Planning a home renovation is a huge undertaking, it's become one of the main reasons why marriages suffer due to the amount of overwhelming stress that homeowners experience throughout the process. Yet, undertaking an extensive home renovation is a great way in how to increase equity in your home.  The trick is, complete the home renovation correctly with investing your hard earned dollars in areas that provide a positive return on investment.
Even if your intent is to live in the home and enjoy the the home improvements as you have no desire to flip the house for profit, it's essential you still invest your time and money wisely. After all, you may want to flip the house down the road and capitalize not only on the equity growth but also on the home improvements you've done. As an example- Install panel moulding in a small main floor powder room as an accent wall is very cost effective while also giving an added element to a small forgotten bathroom.
The main idea behind renovating any type of property is to always ensure that you are adding property value, regardless if you intend to use the property for your own enjoyment or not. This is why it's key to be patient in your design and planning stage. Take notes around the home and address any issues that should be fixed as these items should be on the top of the list of "must haves and wants." Inspect your basement and ensure you have no water leaks, if you do, than prioritize these types of major issues first and set your budget accordingly. Unfortunately there are no cheap ways to increase home value.
Depending how extensive your home renovation is, you may require architectural drawings and building permits if you're addressing structural, electrical, plumbing and HVAC work as part of the reno. Most consumers believe that cosmetic finishes are the best types of home improvements that increase value in 2019, to some degree this notion is correct, but consumers are becoming more savvy as they are beginning to appreciate a home with a new roof and newer thermal windows as an example over having a super luxurious kitchen. One area where a home owner can improve the property is ensuring the basement is dry while also removing any existing mold as it's a health issue, regardless if you're keeping the home or preparing the home renovation for a flip.
How To Plan a Home Renovation Budget
One of the biggest mistakes most home owners make while planning a home renovation is that they compare construction costs to many shows they watch on HGTV. They don't realize that these TV shows are based in the USA and not in Canada, especially in a huge urban city like Toronto where contractors rates are not equal to those south of the border. The moral of the story is to NEVER UNDERESTIMATE COSTS.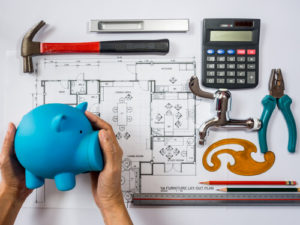 A great example of this according to a survey taken from trustedpros.ca is that most Canadians underestimate the cost of a kitchen redo. The average cost of remodelling a kitchen nation wide is $21,000 while home owners budget anywhere from $12,000 to $14,000 for a new kitchen, that's almost $9000 below the average cost. Another renovation project that homeowners tend to underestimate are the finishes, such as the carpentry aspects. Many always seem to ask "does wainscoting increase home value" and the simple answer is yes if it's added in a tasteful manner. Flooring is also another aspect that most Canadians under budget for, as the average cost for new flooring is $10,000 while homeowners are budgeting only $3,200. With newly built homes that were purchased from a home builder means big surprises come after the buyer takes possession with hard costs. Fencing is one of those costs. Most believe that the builder is responsible for installing the fence. The average cost for fencing is came in closer to $11,700—about $39 per linear foot, while Canadians budgeted just under $4,200 for a new fence, that's another massive discrepancy. 
It's not so much that most home renovations come in over budget, rather the budget was never properly assessed from the get go.  In Toronto a standard sub division 2 car parking driveway in asphalt alone costs on average between $1,200 to $1,600 per driveway as per Ontario Paving. 
Start any budget by addressing the main issues around the home, start with foundation, structural, roofing, windows, and any water issues. These are the first things to sort out before you can begin budgeting cosmetic work like a new kitchen, baths and any other high end finishes while not forgetting about demolition and disposal costs.
Figure out How you Intend to Pay for your Home Renovation
Before you start tearing down drywall and ripping the old floor up,  you must first account for how you will pay for your home renovation project. Paying for a renovation is best done through saving money over time. By using saved money, you're more likely to stay on budget because you have more time to research costs and plan the project more prudently. 
If you're seriously considering renovating your home and don't have all the funds saved up to cover the costs, here are two of the best ways to help fund this expenditure. 
Borrow Existing Equity through a home equity line of credit (HELOC)
This is a loan that's borrowed against the equity you have built up in your home. Under 2019 regulations, a lender will only let you borrow up to 65% of your home's value. That means on a $500,000 home you could borrow as much as $325,000. So, if you already have a $300,000 mortgage, you could qualify for a $25,000 HELOC.
The advantage of a HELOC over a standard loan is that it's backed by an asset. This collateral allows the lender to offer the loan at a lower interest rate, usually prime plus or minus a percentage. Also, a HELOC allows you to borrow up to the limit, repay and borrow back again, without penalty. Plus, when cash is tight, you only pay interest on the funds you use.
Government Rebates Programs
If you're undertaking extensive renovations, consider making upgrades with energy efficiency in mind. Upgrades, like insulating the basement or upgrading windows and the home's furnace, can help you qualify for municipal, provincial and federal rebates that can quickly add up.
However, to get access to these rebates, you must first pay for and complete a home-energy audit, a test that will tell you how energy efficient your home is (or isn't) and then provide a list of upgrades. The audit is done in two parts (before and after) and can cost anywhere from $200 to $1,000, depending on your city, your home and the company you use. Once you've completed and paid for these improvements, you can submit receipts to various rebate programs. Depending on what you've done, you could get as much as $10,000 back, just keep in mind it could take up to a year for the money to come in.
Design and Build by Hiring Local Pros
if you're not accustomed to ever have done a home renovation in the past then it would be wise to hire a general contractor. When hiring a GC, it removes most of the stressful tasks throughout the reno process. It never makes sense for a home owner to think they can GC the project themselves while also managing their own day-to-day tasks. A general contractor is a useful resource, their role has huge value to any home owner wanting to renovate their home. Aside from them understanding the building code and keeping the project on track and close to budget their role goes much deeper. It's a GC's responsibility to hire sub-contractors while ensuring all construction contracts are written fairly and no hidden costs are brought towards the home owner from hired sub contractors. 
A general contractor will also point out current property deficiencies and provide a list of items that must be repaired. He/she will also provide a list of home improvements that increase value while also create an overall budget to complete the project with detailed time lines. They have access to all the trades and third party retailers. They know how to negotiate best pricing with specific industry trades like electricians, plumbers, foundation experts and Toronto finish carpenters. 
If your budget allows, then hiring a interior designer might be a great idea if you require a design concept. They take the design vision from start to completion while also adding industry insights with material pricing needed to complete the project. They also save you from making serious design flaws while finding space to maybe add an additional room that is needed to help make the space more functional. Remember, making the space more functional is a great way to add value to your home. 
Aside from gaining designer insights and industry contacts with retailers, an interior designer adds so much more value. Your home renovation should have the "wow" factor when it's completed and an interior designer will ensure that.
Spend Money in Areas That Have a Proven Positive ROI
The highest returns in property value aside from fixing major issues like structural, roofing, mechanical, windows is the cosmetics aspect of your project. These include flooring, kitchen, baths, fixtures as well as adding an income suite. Not many talk about the idea of adding an income suite as it's a forgotten aspect by most home owners. In Toronto's downtown real estate market, adding an income suite is becoming more evident with how property owners are investing a major portion of their home renovation budget.  This not only adds value to the overall home but also gives you future borrowing power with any lending institution as the property now has monthly rental income.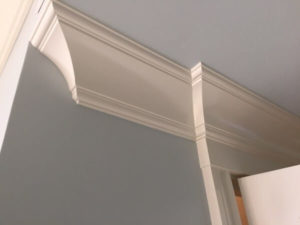 Once the demolition stage is done, it's time to start and re-build. The first major aspect is flooring as its one of the first pieces that is installed prior to even setting up your new kitchen. The floor sets the standard to how all other finishing aspects are completed. The stain colour of the floor will dictate the colour pallet of the walls, including other finishing items including kitchen counter tops, cabinet styles, crown moulding ideas and any other types of custom millwork being done. 
Bathrooms would be the next area that if designed and built properly is another way in how to increase equity in your home. Interior designers are moving away from adding wall tiles in master ensuite baths in 2019, rather they prefer adding and installing wainscoting in a master bathroom as its more appealing and much more cost effective than floor to ceiling wall tile. it's no secret that a kitchen and bathroom upgrade is the easiest way to increase property value, the trick is to design each room that caters to the masses. If you fail in designing these rooms that will appeal to many then you could actually have a reverse effect and lower the overall value of your home. 
Your Home Renovation is an Opportunity to Make the Home More Marketable
Undertaking a home renovation is great time to transform your home to a more modern floor plan. Keeping up with the latest trends that again, appeal to the masses is a great way to increase your home value. This is when you rely on your interior designer and get in touch with a local Realtor as they also are aware of home trend designs in your neighbourhood. Get an opinion of value before you start your home renovation and then invite a Realtor or appraiser back when the reno is completed. 
Let's summarize, home improvements add the most value include- correcting any major issues first. The second would be cosmetics such as upgrading all the bathrooms while also if applicable add an income producing suite. Prior to committing to other major ideas, first ask local Toronto Realtors about how much does a kitchen remodel increase home value as they are the most valuable resource throughout this process. Always leverage all the professionals around your home renovation, including your general contractor as well as your interior designer. 
Learn How Miter5 Can Help with Your Trim Carpentry Projects